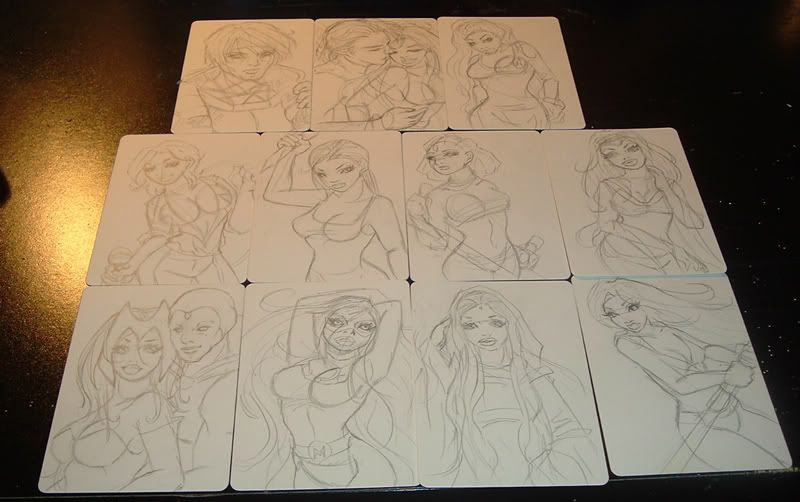 So I was originally going to post the inks of all my cards so far to continue to show my process but I also wanted to say something on shortcomings in general. If you have a shortcoming that you are aware of then why not tackle it head on. One of my short comings directly involve this post. You see, since graduating Kubert School last year my sleep schedule has been kind of screwed up. The work load was so intense there that you had to get everything completed or you would fail. I would stay up until 3-4am getting assignments done just to have to get up at 8am to go to school. It was very demanding and I've seen that it has followed me even since school has been completed about a year ago. These days I do the same pattern I don't go to bed until 4am-6am in the morning which is really really really bad and then when I try to get up at 9am or 10 am it just does not happen and I end up getting up at 4pm which pretty much kills half my day when I could be doing something constructive.
Basically I want to change this pattern. So I'm going to make a better effort to get up at a decent time. I want to get up before 11 am. I think thats fair enough since I'm a freelance artist and I can create my own hours but I also have to be responsible. I wanted to post all the inked versions of the 12 cards I was working on but because of my sleep pattern it didn't happen, sorry! I do have 1 inked card to show you and 12 rough drafts. Anyways lets try to get back into the sketch card process:
Side note: I tend to ink directly on top of loose pencils. I forgot to mention this in the previous post. In all honesty you should try to ink over tight pencils so you'll be less likly to make a mistake. I'm personally pretty confident in my loose pencils to ink on top them so I guess its all a matter of preference of what you would like to do. So for my inked sketch card I have Supergirl. You can see the pencils in the previous post. I used Micron 1 pen for the thin outlines and a faber-castell f pen for the thicker outlines. I'm using a simple inking style for these cards. Kind of like a mucha style.
Between Thursday and Friday I will show you the remaining inks for the other cards pictured above and the color work (final process). The penciled cards (shown above) from left to right is: gambit, angel & psylocke, deena troi (star trek), april oneil (tmnt), buffy, maris brood (star wars), arwen (lotr), scarlet witch & Vision, Medusa (marvel), Galderiel (Lotr), and Jaina Solo (star wars)
Thanks for looking.
~Sherry